We Provide Care and Rehabilitation Solution
We have professionals working on the audiological evaluation because it has to be conducted in a scientifically-designed, soundproof room. We use latest technological equipment and are updated with the advancements in the field. We know the importance of the best hearing aid in your life and we want you to enjoy the best without and difficulties. We have understood the brands that are listed on the website and even offer free consultation to help you make the right choice.

We have categorized the hearing aids in a simple manner and it should make it easy for you to scroll through the multiple options and make decisions accordingly. We are constantly trying to improve ourselves to help you with your needs to get the best hearing aids.
We also give you the option to connect with us on WhatsApp and make sure that you feel comforted with our interactions before choosing from the wide range of hearing aids listed on the website.

Detection & Diagnosis
Audiological evaluation conducted in a scientifically-designed, soundproof room
The latest technological equipment and advancements used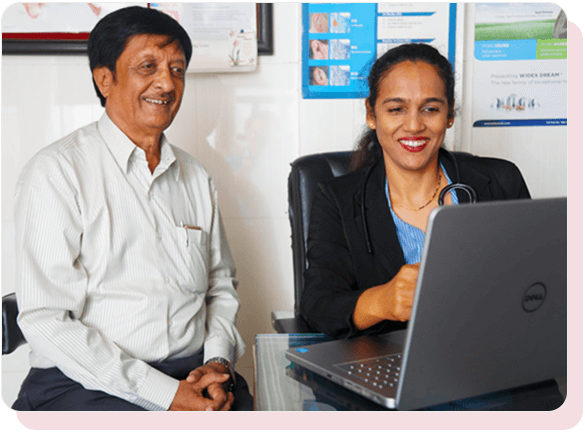 Tests Available
Brainstem Evoked Response Audiometry (BERA)
Auditory Steady State Response (ASSR)
Oto-Acoustic Emission (OAE)
Short Increment Sensitivity Index (SISI) test
Tone Decay Test (TDT)
Alternate Binaural Loudness Balance (ABLB) test
Impedance Audiometry
Free Field Audiometry
Speech Therapy for
Stammering or delayed speech disorders (Autism, PDD, ADD)
Misarticulation (the process of faulty articulation, which results in unclear and poorly understood speech)
Voice disorders (Puberphonia, Cleft Palate)
Aphasia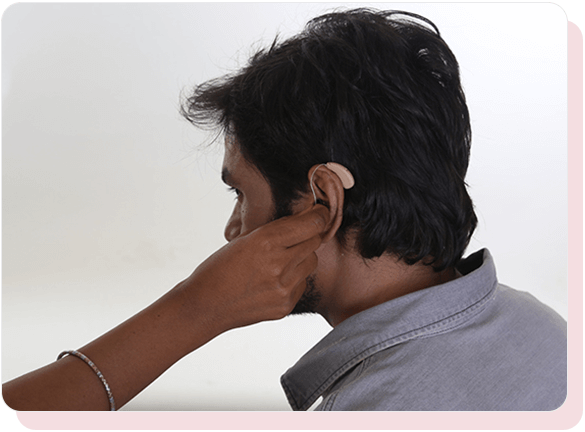 Rehabilitation
Hearing aid selection and fitting
Auditory training
Parental guidance
Integration in non-special school
Auditory verbal therapy (AVT)
Cochlear Implant Counselling
For those whose hearing impairment cannot be corrected with a hearing aid or is due to a deeper underlying disorder, we help them choose the right ENT surgeon, the best possible equipment and even get financial assistance from Trusts and other charitable institutions.
We also help them in post-surgical rehabilitation like mapping, AVT and Speech Therapy.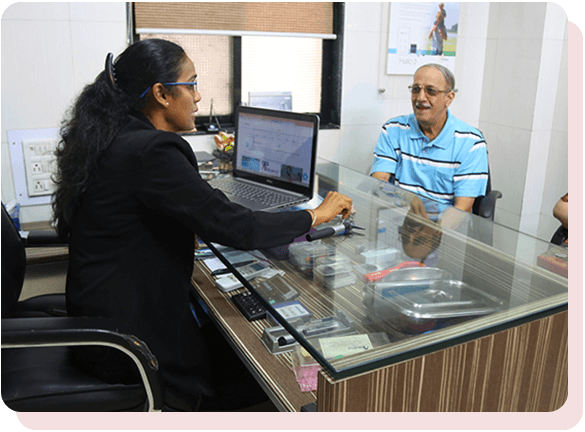 Hearing loss can have a heavy impact on our lifestyle because we rely on our hearing abilities for our day-to-day tasks. A consult an ENT & Audiologist to rule out the cause of hearing loss. If your hearing loss is due to a problem in outer or middle ear it is medically treated either with medicine or surgery. If the problem is in the inner ear along with medicine you should use hearing aids so that your condition does not get worse. Using good-quality hearing aids will help you listen better and take good care of your hearing health. This will prevent your mild hearing loss from getting converted into moderate, severe, or profound hearing loss.
While choosing or shortlisting hearing aids, remember that not all hearing aids deal with the type of hearing loss you might be suffering from at the moment. Hearing aids offer multiple features, and you should compare them while selecting a hearing aid. Talk to an Audiologist and learn about your condition before you start looking for hearing aids. Random selection, in this case, is not going to help you.