Buy Hearing Aids Online
Mild, severe, or prolonged hearing loss? Don't worry! Hearing aids will change your life, and make sure you do not miss out on any detail you want to hear. There has been an advancement in the field of hearing aids, too, and so you'll find every type of hearing aid that matches your needs. 
From fully digital in-the-ear devices to custom-made hearing aids, find the entire range here. Sort by your budget, style, and other preferences that suit your need, and make a choice accordingly.
From fully digital in-the-ear devices to custom-made hearing aids, find the entire range here.
Type of Hearing Aids
With a variety of options available, you have the opportunity to choose hearing aids after understanding the type that matches your needs. If you are looking for traditional hearing aids, you might want to go with Behind the ear (BTE) hearing aids. If you want to be discreet about it, you can opt for Invisible in the canal (IIC) hearing aids. The choice is yours, and you'll get a variety on the website to look for and make a choice. 
Atharva Speech and Hearing Care – India's #1 Leaders for Enhanced Hearing
The nation's hearing leader, we, at ASH Clinic, provide comprehensive expert care for every hearing need.  We offer FREE hearing tests in Mumbai and Goa. Our experienced staff are happy to assist you in all areas of hearing so that you can find the perfect solution.  At ASH Clinic, we are familiar with the challenges  patients of hearing loss face.
With solutions that are affordable, comfortable and effective, we are simply a phone call away. For patients and families from Mumbai and Goa, walk  into our clinic for a FREE consultation.
Find the latest rechargeable Hearing Machines and Digital Hearing Aids at a discount price here.
HEAR BETTER IN 3 SIMPLE STEP
1. Free consultation
2. Hearing Aid Fitting
3. Ongoing support
1. Free consultation
Free consultation
Talking to an Audiologist is very important because it will change your concept about hearing aids. Most people see hearing aids as a burden and do not want to use them, even though they know the importance of the same in their lives. Some people look at it as an embarrassment, and that's not the right way to look at it. Talk to an Audiologist and let them analyse your condition. If there is a need for hearing aids, understand the reason for it before making a decision. The final call will be yours.
An expert will discuss your hearing situation in detail on the phone and give you an appointment to meet the Audiologist, who will test your ears and provide options that suit your needs.
2. Hearing Aid Fitting
3. Ongoing support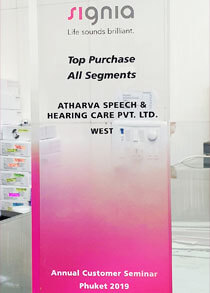 Top Purchase  All Segments from West Zone
From Signia (Siemens Hearing Instruments Pvt Ltd) In Annual Customer Seminar Phuket 2019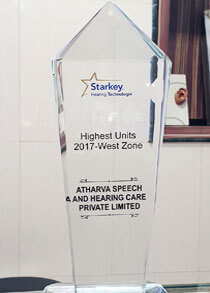 Highest Units 2017
West Zone 
From Starkey Hearing Technology.
What Our Customers Have To Say

"I feel very much embraced by the quality of the service Atharva Speech and Hearing Care Centers provide.."
DEVENDRA SHAH ( 70 Years )
4,Ramprasad Building, opp. Kokilaben Hospital, Sahayog Nagar, Four Bungalows, Andheri west, w, Maharashtra 400053.
Mulund-Goregaon Link Road, Nahur West, Industrial Area, Bhandup West, Mumbai, Maharashtra – 400 078.
D-1, Vrundavan-B Building, Umed Ashram Road, Behind Pantaloons Showroom, Near Borivali Jail, Off. S. V. Road, Borivali(W), Mumbai – 400092.
Office no – 5 Ground Floor, Plot – 266, Patel Bldg, Next to Beramji's Hospital, Opp Central Plaza Cinema, Raja Ram Mohan Roy Marg, Opera House, Charni Road East, Mumbai 400004.
G-2, Ground Floor, Swapnapoorti CHS, Vishnu Nagar, Near Gajanan Vada Pav, Opp. Lane Matoshree Prabhodhinee Jr. College of Science, Naupada, Thane (W) – 400602.
Atharva Speech And Hearing Care Pvt Ltd., K/20, Empire Estate, Near Ranka Jewellers, Old Mumbai-Pune Highway, Next to Kotak Mahindra Bank, Pimpri-Chinchwad, Maharashtra – 411018.
{ "@context": "https://schema.org", "@type": "MedicalClinic", "name": "Ashclinic (Borivali) : Atharva Speech and Hearing Care", "image": "https://www.ashclinic.com/wp-content/uploads/2021/08/ashclinic.png", "@id": "https://www.ashclinic.com/#organization", "url": "https://www.ashclinic.com/", "telephone": "7666030050", "address": { "@type": "PostalAddress", "streetAddress": "D-1, Vrundavan-B Building, Umed Ashram Road, Behind Pantaloons Showroom, Near Borivali Jail, Off. S. V. Road,", "addressLocality": "Mumbai", "postalCode": "400092", "addressCountry": "IN" }, "geo": { "@type": "GeoCoordinates", "latitude": 19.223942, "longitude": 72.853367 }, "openingHoursSpecification": { "@type": "OpeningHoursSpecification", "dayOfWeek": [ "Monday", "Tuesday", "Wednesday", "Thursday", "Friday", "Saturday" ], "opens": "10:00", "closes": "19:00" }, { "name": "Ashclinic (Andheri): Atharva Speech and Hearing Care", "telephone": "85915 19450", "address": { "@type": "PostalAddress", "streetAddress": "4, Ramprasad Building, opposite Kokilaben Hospital, Sahayog Nagar, Four Bungalows, Andheri west, Maharashtra.", "addressLocality": "Mumbai", "postalCode": "400053", "addressCountry": "IN" }, "geo": { "@type": "GeoCoordinates", "latitude": 19.13866, "longitude": 72.82601 }, "openingHoursSpecification": { "@type": "OpeningHoursSpecification", "dayOfWeek": [ "Monday", "Tuesday", "Wednesday", "Thursday", "Friday", "Saturday" ], "opens": "10:00", "closes": "19:00" }, { "name": "Ashclinic (Charni Road): Atharva Speech and Hearing Care", "telephone": "8879973471", "address": { "@type": "PostalAddress", "streetAddress": "Office no – 5 Ground Floor, Plot – 266, Patel Bldg, Next to Beramji's Hospital, Opp Central Plaza Cinema, Raja Ram Mohan Roy Marg, Opera House, Charni Road East", "addressLocality": "Mumbai", "postalCode": "400004", "addressCountry": "IN" }, "geo": { "@type": "GeoCoordinates", "latitude": 18.95493, "longitude": 72.81883 }, "openingHoursSpecification": { "@type": "OpeningHoursSpecification", "dayOfWeek": [ "Monday", "Tuesday", "Wednesday", "Thursday", "Friday", "Saturday" ], "opens": "10:00", "closes": "19:00" }, { "name": "Ashclinic GOA : Atharva Speech and Hearing Care", "telephone": "8080208816", "address": { "@type": "PostalAddress", "streetAddress": "Unit No. 201, 2nd Floor, Gera Imperium Grand, Patto, Panaji", "addressLocality": "GOA", "postalCode": "403001", "addressCountry": "IN" }, "geo": { "@type": "GeoCoordinates", "latitude": 15.49539, "longitude": 73.83375 }, "openingHoursSpecification": { "@type": "OpeningHoursSpecification", "dayOfWeek": [ "Monday", "Tuesday", "Wednesday", "Thursday", "Friday", "Saturday" ], "opens": "11:00", "closes": "19:00" }, { "name": "Ashclinic (KHAR) : Atharva Speech and Hearing Care", "telephone": "9833883233", "telephone": "022-26460700", "address": { "@type": "PostalAddress", "streetAddress": "99, AbdeVilla, G-3, Nr. ICICI Bank, Opp. G. M. Medical Center, S. V. Road,", "addressLocality": "Mumbai", "postalCode": "400052", "addressCountry": "IN" }, "geo": { "@type": "GeoCoordinates", "latitude": 19.07089, "longitude": 72.83760 }, "openingHoursSpecification": { "@type": "OpeningHoursSpecification", "dayOfWeek": [ "Monday", "Tuesday", "Wednesday", "Thursday", "Friday", "Saturday" ], "opens": "11:00", "closes": "19:00" }, { "name": "Ashclinic (SION) : Atharva Speech and Hearing Care", "telephone": "8080308816", "telephone": "022-24017897", "address": { "@type": "PostalAddress", "streetAddress": "B-22, Laxmi Niwas , Above LIC Office, Next to Sadhana Vidyalaya, Swami Vallabhdas Road, Sion West", "addressLocality": "Mumbai", "postalCode": "400 022", "addressCountry": "IN" }, "geo": { "@type": "GeoCoordinates", "latitude": 19.04613, "longitude": 72.86287 }, "openingHoursSpecification": { "@type": "OpeningHoursSpecification", "dayOfWeek": [ "Monday", "Tuesday", "Wednesday", "Thursday", "Friday", "Saturday" ], "opens": "11:00", "closes": "19:00" }, { "name": "Ashclinic (THANE) : Atharva Speech and Hearing Care", "telephone": "9920857771", "telephone": "022-25447171", "address": { "@type": "PostalAddress", "streetAddress": "G-2, Ground Floor, Swapnapoorti CHS, Vishnu Nagar, Near Gajanan Vada Pav, Opp. Lane Matoshree Prabhodhinee Jr. College of Science, Naupada, Thane West", "addressLocality": "Thane", "postalCode": "400602", "addressCountry": "IN" }, "geo": { "@type": "GeoCoordinates", "latitude": 19.18955, "longitude": 72.97027 }, "openingHoursSpecification": { "@type": "OpeningHoursSpecification", "dayOfWeek": [ "Monday", "Tuesday", "Wednesday", "Thursday", "Friday", "Saturday" ], "opens": "11:00", "closes": "19:00" }, { "name": "Ashclinic (PUNE) : Atharva Speech and Hearing Care", "telephone": "9324404794", "address": { "@type": "PostalAddress", "streetAddress": "Atharva Speech And Hearing Care Pvt Ltd., K/20, Empire Estate, Near Ranka Jewellers, Old Mumbai-Pune Highway, Next to Kotak Mahindra Bank, Pimpri-Chinchwad", "addressLocality": "Pune", "postalCode": "411018.", "addressCountry": "IN" }, "geo": { "@type": "GeoCoordinates", "latitude": 19.18955, "longitude": 72.97027 }, "openingHoursSpecification": { "@type": "OpeningHoursSpecification", "dayOfWeek": [ "Monday", "Tuesday", "Wednesday", "Thursday", "Friday", "Saturday" ], "opens": "11:00", "closes": "19:00" }, "sameAs": [ "https://www.facebook.com/TheASHclinic", "", "https://www.instagram.com/theashclinic/" ] }