Tinnitus is a condition when one experiences ringing or any other noise in at least one of their ears. These sounds cannot be heard by people around them and can have an impact on your mind. However, one should know that tinnitus is a common problem, and it affects around 20% of the population across the globe, especially as one grows old. Tinnitus can even result from an age-related hearing loss, but with the right treatment, there will be an improvement in one's hearing but may or may not reduce tinnitus 
Types of Tinnitus
Subjective tinnitus: Subjective tinnitus is a common form of tinnitus. Symptoms experienced usually affect individuals that are exposed to excessive noise. This type of tinnitus can appear out of nowhere and disappear in the same manner. It may last for anywhere between three to twelve months at a time. If it turns severe, it may never stop.
Neurological tinnitus: This form of tinnitus can be caused by a disorder that is learned to primarily affect the brain's auditory functions.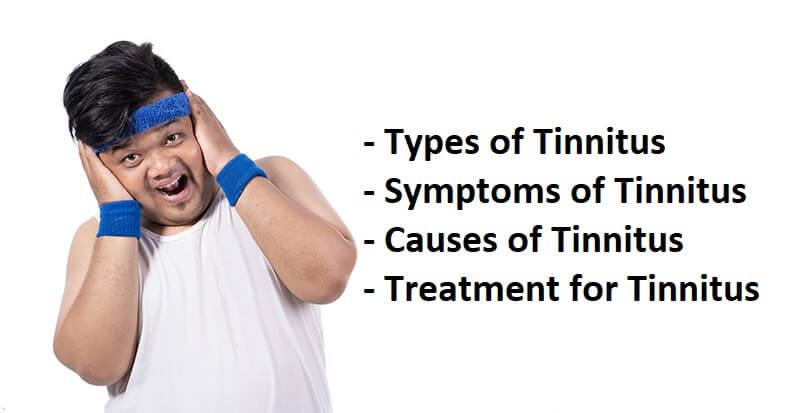 Somatic tinnitus: This form of tinnitus is related to the sensory system. It is related to the sensory system and can worsen with it. 
Objective tinnitus: It is the rarest form of tinnitus seen amongst individuals. Vascular deformities or involuntary muscle contractions may cause it. When treated, the tinnitus stops entirely, in most cases. Interestingly, it is the only form of tinnitus that others can hear too. Fortunately, there is a permanent fix for it. 
Symptoms of Tinnitus
When we talk about tinnitus symptoms, we need to focus on sounds the patient hears, especially at night or any period when they are in a quiet environment. The varying sounds include whistling, chirping, screeching, clicking, hissing, roaring, buzzing, pulsing, musical, whooshing, or humming. 
Causes of Tinnitus
Hearing loss: If you experience hearing loss, you may have tinnitus. There is a possibility of the same, and you should make sure that you connect with an audiologist in Mumbai at the earliest. Don't let the condition get worse for you.
Ear infection: The ear canals might be blocked by a build-up of fluid, dirt, earwax, or any other material. This leads to a blockage and can eventually cause tinnitus.
Severe head or neck injury: When you go through a traumatic experience that affects your head or neck, your inner ear, brain function linked to hearing or hearing nerves can be affected. This can lead to tinnitus. 
Medications: When we take a medicine, we do not look at the same side effects. There is a possibility that one of the side effects of the medication might cause or worsen tinnitus. Interestingly, when you stop taking that particular medication, you might notice the unwanted sounds disappear or reduces
Treatment for Tinnitus
Sound Therapy: One of the most common treatments available for tinnitus is sound therapy. Masking devices offer temporary relief from tinnitus with the pleasant sound of music. Hearing aids are even used commonly for sound therapy. The primary reason for using hearing aids is that it amplifies environmental sounds, and the entire attention is directed from tinnitus. 
Tinnitus Retraining Therapy (TRT): This therapy can help hyperacusis go away. The technique helps in reducing stress and improve the quality of life of the patient. The program involves extensive directive counselling, along with sound therapy. Utilizing the brain's neuroplasticity, the subconscious, non-auditory areas of one's brain are retained, allowing the brain to ignore the sound of tinnitus. 
Cognitive-behavioral Therapy (CBT): This therapy aims at helping people with depression. However, one cannot expect it to reduce the sound of tinnitus but helps to overcome other related problems