Side Effects of Hearing Loss:
Hearing loss is quite common amongst individuals, and there is nothing much you can do about it till the time you take up options that can improve your hearing skills. Hearing aids are one such solution that can help you in this situation. You can easily buy a reputed brand hearing aid from an ear machine shop online.
When we talk about such cases, we have to understand how they can affect our other sensors as well.
How does hearing affect your body?
When we talk about hearing loss, we have to understand that there are some surprising side effects of the same that can have a long-lasting impact on our future. Hearing loss can cause a number of physical problems, including hair cell damage in the inner ear. Not many people talk about it, but hearing loss can please link to a number of long-lasting gut issues as well. When you suffer from hearing loss, you might come across many changes associated with muscle tension, upset stomach,, and anxiety. This can even lead to major issues such as diarrhea, constipation, and even abdominal cramps.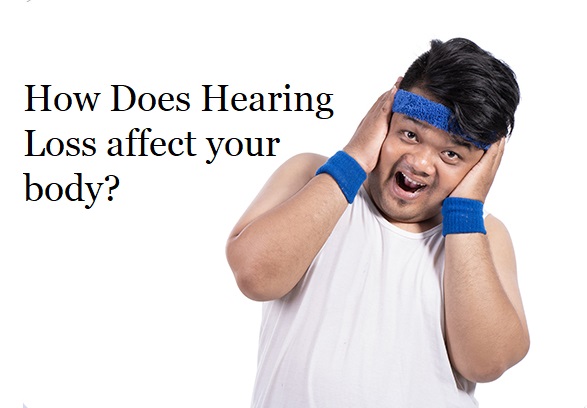 Does hearing loss affect the brain?
When we talk about hearing loss, we assume that it can only have an impact on our physical self and not on our mental health. However, this is not true. Hearing loss has a major impact on our minds, and it even pushes us into situations we don't want to get in. For example, it is seen that many people with hearing loss try to cut down on their social life. When you make this mistake, you push yourself into isolation even when there is no real need for it. It is a fact that isolation can lead to stress and depression in many cases.
It is also seen that when you start suffering from hearing loss, you might notice that it is also affecting your intelligence. Non-verbal intelligence is seen to be adversely affected by an individual's bilateral hearing loss. It can even be one of the reasons why you start suffering from issues like memory loss. In some cases, even mild hearing loss can be seen as a reason for cognitive overload which means such people can experience hearing-related memory loss as well.
How does hearing loss affect daily life?
When we talk about our daily lives, we need to realize that hearing loss can significantly impact an individual's daily life because many aspects are related to one's hearing skills. So, if you do not take good care of this particular skill, you will notice that you are pushing yourself in the wrong zone, and that can only be bad for you in every possible way. You have to think about it and make sure that you do not make it difficult for you. Look for an ear machine shop online and find a hearing aid that can be helpful for you, and we hope it will solve your problems to a great extent.